Ohio Hospital Association in Columbus, Ohio – Custom Data Analysis, Reporting Tools, and Medical HIPAA Compliant Website Applications 
ASP worked with Ohio Hospital Association to develop web-based, state-wide custom data analysis and reporting applications. These applications allow hospitals to run customized and standard reports to compare against other hospitals statewide.
The Insight Application gives hospitals access to information regarding inpatient, outpatient, and emergency room data – over 23 million patient records a year. The custom reporting application allows hospitals to find out where patients are going to services and what opportunities exist for growth and improvement.
The Datatrack Application is a secure-encrypted web-based software tool that validates all hospital data submitted to OHA. The application imports patient-level data files from more than 200 hospitals on either a monthly or quarterly basis, with an estimated 35 million records collected every year.
ASP is proud to assist Ohio Hospital Association with the design and develop their new website and integrate with their CRM to automatically display information on the website. ASP integrated the applications and website with their single sign-on system for user and member convenience.
Benjamin Rose Institute of Aging in Cleveland, Ohio – BRI Care Consultation Healthcare Web Application Development
ASP works with Benjamin Rose Institute of Aging to develop the BRI Care Consultation Web Application. The application is built for the entities associated with the institute to track patient communication and setup tasks, appointments, and action steps to ensure patients are getting the care, resources and reminders for their health.
The user dashboard displays the tasks, steps and appointments assigned to their patients. There is a case dashboard allowing the user to search or sort their patient records. Each record collects details about the patient, their caregivers and has a log of all patient interactions for communications, reminders and resources.  ASP created an installation package with documentation for resale purposes.
Hospital and Healthsystem Association of Pennsylvania – HIPAA Compliant Data Portals Application Development and CMS Suport
ASP has worked with HAP since 2016 to develop and maintain a secure data portal for two Center for Medicare and Medicaid Services (CMS) contracts, Hospital Engagement Network (HEN) and Hospital Improvement Innovation Network (HIIN) contracts. As such, ASP is FedRAMP and FISMA compliant as per requirements of the HEN and HIIN contracts.
HEN/HIIN Data Portal allows hospitals to enter and report out on their hospital level data. Hospitals are able to track their performance over time across over 200 measures. Segmentations are utilized for hospitals to perform direct comparisons across categories such as region, bed size, and similar focus cohorts.
Backend Server Support has been provided and maintained by ASP since 2016 for the HEN and HIIN contracts. Initially an on premise solution was utilized, but has since transferred to a Microsoft Azure solution. Backend support focuses on integrating the data portal with SQL databases.
Tableau Server maintenance has been provided since 2017 to allow HAP to distribute HAP developed Tableau dashboards.
Kentico support has been provided by ASP in the development of HAP's HIIN collaborative site. The website has over 500 unique users that utilize the site for educational materials that contain best practices, webinars, and a calendar of events.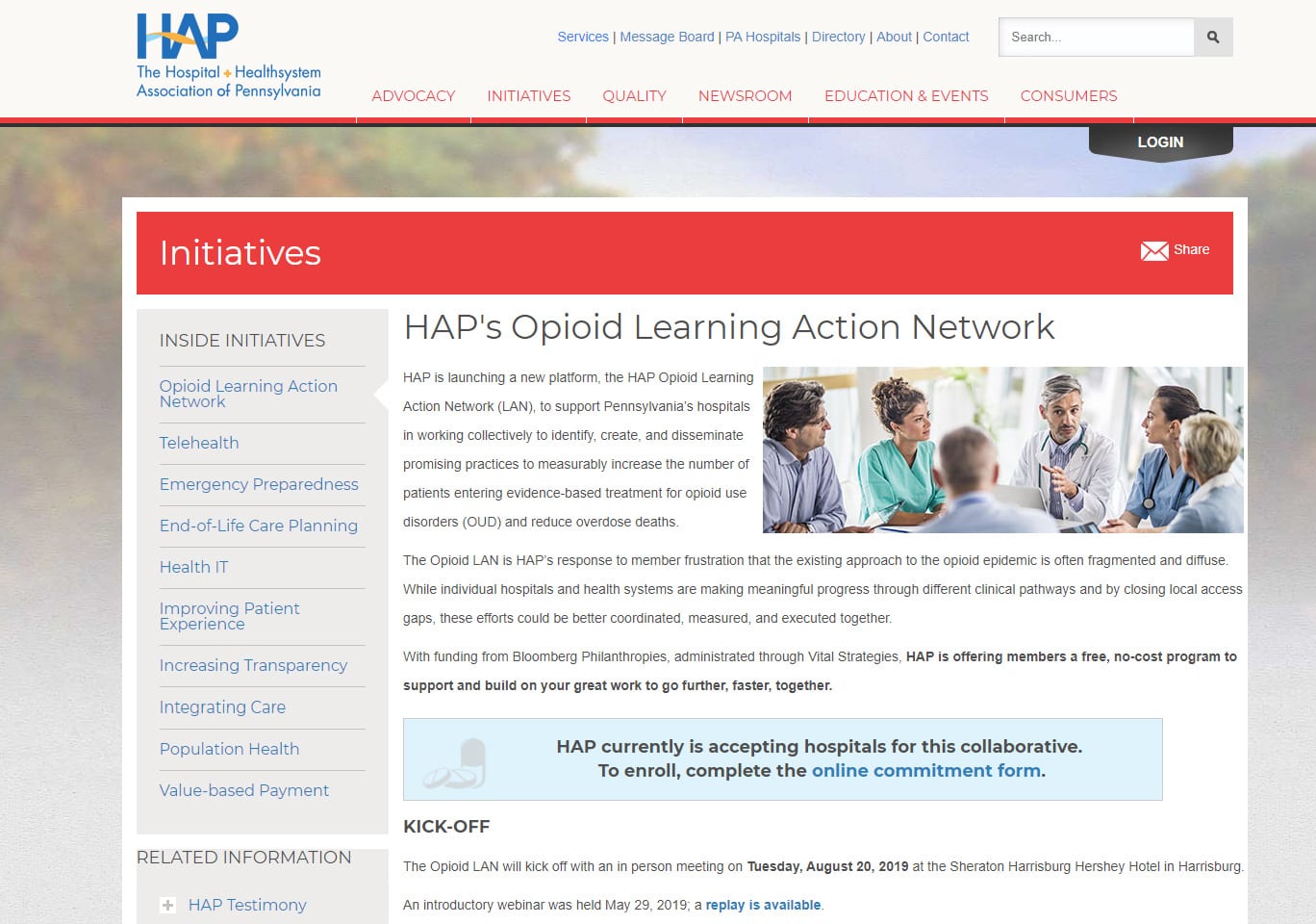 Greenbrier Clinic in West Virginia – Executive Health Website Design and Development
The Greenbrier Clinic offers an Executive Health Plan that rivals the largest hospitals in the United States. The top level executives enjoy a few days at the luxurious Greenbrier Resort and receive the best preventative health care in the nation.  They needed a website to reflect their status. ASP worked with the team to define a Stay Ahead Campaign – to stay ahead of your health. The home page image slider is a series of video clips to showcase all of the services.  They have five main clinics and services in one area. The menu was a fun challenge to display all of the services of the different clinics with the proper colors. The Register for Open Access form captures new patient data in an easy to use form. The admin users receive email notifications with a link to the admin area of the website.
Kanawha Valley Gastroenterology Associates in Charleston, WV – Healthcare Website Design
Kanawha Valley Gastroenterology Associates is a clean website design with a little flare to reflect the personality of their doctors. The website displays bios for the doctors and staff and the services they offer. New patient forms allow the new patient to fill out the information in the comfort of their home and bring them to their next appointment.
Psychological Consultation and Assessment, Inc. in Cross Lanes, WV – Mental Health Website Design
ASP works with PC&A on their web presence and their internal applications. The group has a proven approach to improving patient health and working towards positive outcomes. The website features organizes information about the numerous programs they offer and online, fillable, new patient forms.
Charleston Surgical Hospital in Charleston, West Virginia – Hospital Website Design
Charleston Surgical Hospital utilizes ASP staff for their internal IT support and for their website. The informational website displays the services and outpatient imaging services offered by the hospital. There is a list of associated doctors, patient resources and employment information.
Mountaineer Cardiology in Charleston, West Virginia – Medical Website Design
Mountaineer Cardiology's website represents the beauty of West Virginia where their services are offered and is the homeland of doctors and staff. The website displays the doctor bios, the services offered and the new patient forms.  There is a link for the patient portal for their patients.